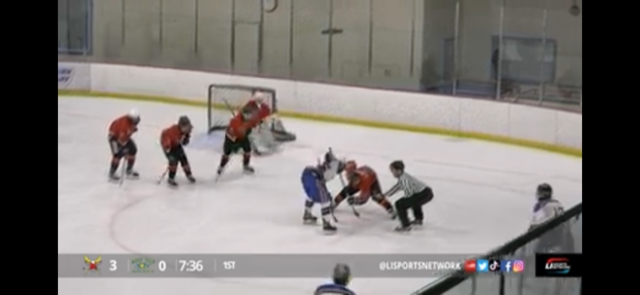 Noah Tloczkowski recorded his 2nd win of the season, with a 9-2 win over West Islip last night. The Senior goalie made the saves he needed to make and thanks to excellent team defense those opportunities were limited. Jack Mercado, George Vadyak, Ryan Delucie, Brent Brdey, and Mateo Marchese had their best game as defensive unit. In addition Mateo Marchese added a goal and two assist for the evening, while Jack Mercado and George Vadyak each tallied their first points of the season with excellent feeds on goals in first and second period.
Eathan Brdey sored the opening goal, first Varsity goal for the Sophomore, on an excellent set up with Zach Martin. It was the first of a Five Goal first period, and put the game out of reach rather quickly. Goals followed by Luke Savage, Matt Campagnola, Mateo Marchese, and Senior Dylan Treco, first as a varsity player, chased the visiting starting goalie.
The line of Matt Campognola, Luke Savage, and Jackson Tomforde contributed on the night with 7 points, highlighted by a hatrick for Matt Campagnola. Sean Connolly had a very good night with a Goal and an Assist. Sophomore Logan Keil had his first point on the season, with a great display of creating space of Connolly to cash in.
The TBirds are back in action on Friday night when they play 3-0-1 and the much improved KP/Commack program. Game starts at 10:10pm, following the JV squad's game at 8:40pm vs. East Islip. Remember if you can't get to the games watch them live on Youtube under Long Island Sports Network.