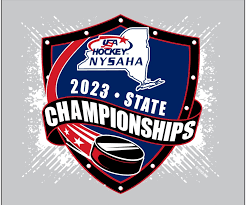 T-Birds will open their State's appearance vs Smithtown on Friday Feb 24th at 6pm, @ the Kiwanis Ice Arena in Saugerties NY. All fans are more then welcome to support the team and head up for the weekend. Otherwise follow the action on Youtube and The Long Island Sports Network live.
T-Birds are scheduled to play game 2 on Saturday Feb 25th at 10am vs Arlington NY High School, and game three at 6pm, opponent to be determined (either East Islip or St. Anthony's).
Semi-Finals and Championship games to be played at 12pm/2pm and 6pm on Sunday the 26th.
Looking forward to a great experience, and the goal is to play 5 games and enjoyable ride home!