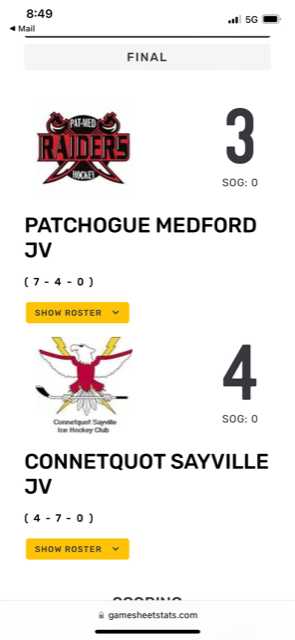 JV had their best win of the season Weds night vs Pat Med. The Raiders came into the game at 7-3 and sitting in 3rd place at the time. Game was back stopped early buy goalie Alex Clark who withstood a ton of shots, and kept the game scoreless going into the Second Period. The T-Birds then exploded with 4 goals in the Second period. T-Birds open the scoring with an unassisted goal by Chris Esposito, his 10th for the season. Then Alex Theodorellis scored to make it 2-0, with assists going to Keyan Makely and Larry Andres. Josh King then scored his first goal of the season to make it 3-0.
The Red Raiders battled back to make it 3-2 with two goals in the second, but it was Paul Wagner who put the game away with a PP goal late in the Second period. Alex Clark was again carried the load in the third period, making many clutch saves under pressure. The T-Birds held on for the 4-3 win and improve their record to 4-7. Back in action Friday night at 8:40pm v Northport for JV.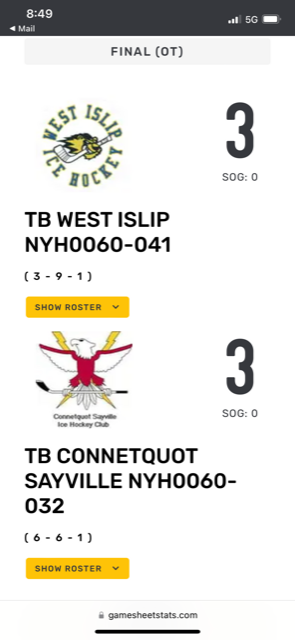 Varsity played a very good game shorthanded to come away with a tie vs West Islip. Jack Keil earned the point for the T-Birds with a very good performance between the pipes. The T-Birds skated with a very light bench due to injuries, suspension, and conflicts; rolling with 4 Defensemen and 7 Forwards. But with absence comes opportunities, and Sean Connolly and Daniel Jung took advantage of the extra Ice Time.
Sean finished the game with 2 Goals, his 4th nd 5th of the season. Danny Jung netted his 1st goal of the season late in the 3rd period. Congrats to Ryan Delucie with his first varsity point with an assist on Danny Jung's goal. Zack Martin, Jackson Tomforde, Ryan Fleischauer, and Jack Mercado each collected assists; it was Tomforde's 14th Point of the season and Fleischauer's 17th. Varsity looks to be back with a full roster, fingers crossed, for this upcoming Sunday the 11th vs. Kings Park/Commack at 6:20pm.