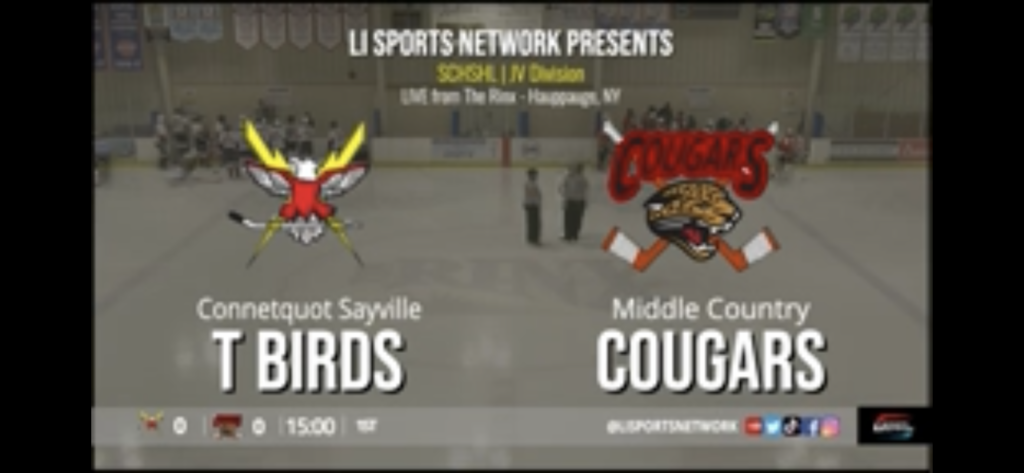 Coach Ree and King had the Team on Full tilt last night versus the Cougars of Middle Country. The victory by score of 7-4 moves their record to 3 wins and 5 losses. Alex Clark played a sound game for the team backstopping them to the win. In a game where they were favored to win the played a game that left no doubts. Paul Wagner got the team going scoring hos 3rd and 4th goals on the season in the first period, and Alex Theodorellis contributed a goal in the opening period as well, his 3rd of the season.
2nd Period Alex Clark sure most of his action, with the T-Birds taking 5 minor penalties, but the goaltender denied the opposing power plays. Chris Esposito scored his first of 3 goals in the second period, tallying his 5, 6, and 7th goals for this season.
Congrats to Keyan Mackley on recording his first HS Hockey point with his first ever goal. Standing in front, making his coaches proud, off a beautiful pass from Andrew Snyder. Andrew Snyder and Josh King we also pivotal to the T-Birds success for the evening, with great touch passing and smart hockey throughout the night.
Quiet few days of hockey for the T-Birds program but JV and Freshmen are back in action on Monday night with games at 6:20pm Freshmen & 9:20pm JV – Varsity has full ice practice. Enjoy the week and weekend, good luck at your other hockey games!