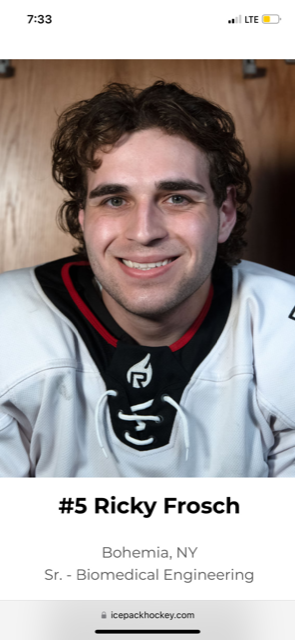 Today we are catching up with class of 2019 Defensemen Ricky Frosch, and T-Birds Varsity Captain. I had the honor of knowing Ricky as a kid playing Roller Hockey and then coaching him during his Varsity season's with the T-Birds and three characteristics standout – dedication, accountability & loyalty. Ricky always took on the roll of a team leader from his first season on varsity to his last, and was absolutely the player stepping up for his teammates. Ricky is not far removed from his High School days, but is a true example of making the most out of sports and education. Good luck Ricky with your Senior Year of College at the rink, in the class room, and opportunities that present themselves to you that are well deserved.
What town did you grow up in & High school did you attend? I grew up in Bohemia and attended Connetquot High School.
Did you play other sports in High School, if so which one(s)? I did not, I only played soccer in middle school.
What years did you play for the T-Birds Club? I played from 2013/14 to 2018/19, two years at every level
Was there a coach that left an impression or influence for you that helped in hockey and life (High School, Travel, etc)? I feel that Coach Rich Villani from my two years in JV left a lasting impression in the way he pushed his players. He inspired me to work harder and responded to my hard work with more playing opportunities in situations that were important to my development as a hockey player.
What was your most memorable moment while playing for the TBirds? Beating Ward Melville as a senior and scoring an OT winner verse HHH in JV.
Where and for whom did you play your travel hockey? I played for the P.A.L. Junior Islanders and shifted to the Long Beach Sharks Jr. team as a senior.
Did you play hockey past High School, if so where? I am currently playing for NC State University
What is Ricky Frosch doing today? I am currently a senior in biomedical engineering at NC State University in their joint program with UNC Chapel Hill. I play hockey for NC State's club team that is very competitive and popular on campus. I also work part time for a company called SMT. SMT does optics for local broadcasts of NHL games across the country and I am one of the operators for them.
What would you recommend the current TBirds players take away from their High School Hockey Experience? Enjoy it, because it doesn't last forever, it goes by before you know it. I'd also recommend having pride in playing in your school colors. I don't feel I recognized that to the level I have now until I reached NC State.
Anything that you would like to add about your time playing for the TBirds; teammates/ coaches/ parent support/ etc? I wouldn't be playing for State right now if it wasn't for this program. They sling shot me into many opportunities I wouldn't have had otherwise. I appreciate all the love the team showed for one another and the memories made will last my entire lifetime. I still to this day keep in touch with my teammates, its a bond that is never broken and I'm immensely grateful for that.