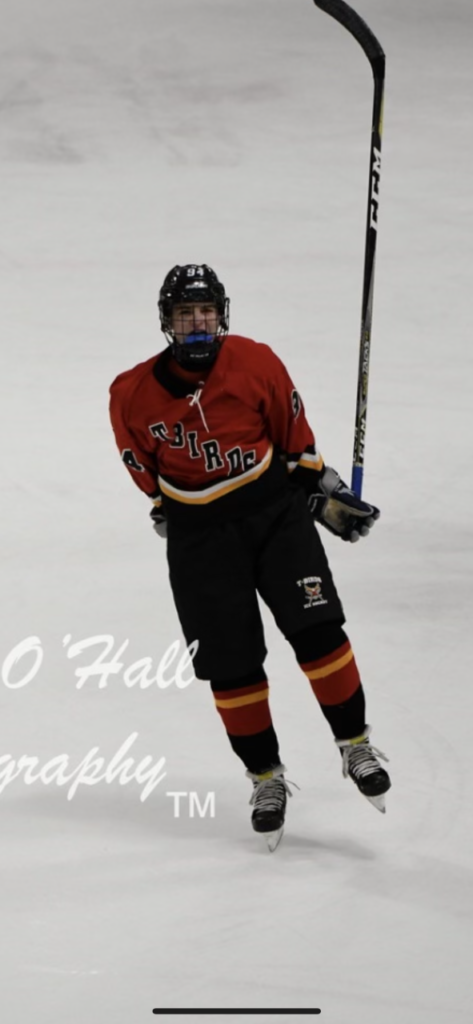 Dylan Vigna was a Varsity Team Captain and graduate of the crazy year of 2020! An outstanding young man off the ice, this three year varsity forward always had an impact on his team and games he played in. Dylan was a fan favorite do to his bold personality, T-Birds on-ice mayor talking to all willing to listen. And as good as sports performing poet Dylan was one heck of a hockey player as well, leading the team in scoring as a Junior. Thanks Dylan for your time on the ice and the representation off the ice.
What town did you grow up in & High school did you attend? Sayville and Sayville high school
Did you play other sports in High School, if so which one(s)? I was a hockey only kind of guy
What years did you play for the T-Birds Club? 2016-17 JV & 2017-2020 Varsity
Was there a coach that left an impression or influence for you that helped in hockey and life (High School, Travel, etc)? Coach Jay Woolley. Steve Beisel, and Johnny Ree in the program. Outside of the program coach Frank Dellisola of the rebels and coach George Brennan, Chris Zarcone, and Donny Richardson of PAL Jr. Islanders
What was your most memorable moment while playing for the TBirds? My most memorable moment was beating East Islip my senior year to clinch a playoff spot.
Where and for whom did you play your travel hockey? 10 years with P.A.L and 2 years for the Long Island Rebels
Did you play hockey past High School, if so where? I am currently playing on the University of Scranton hockey team
What is Dylan Vigna doing today? I am studying to obtain my masters in accountancy as well as preparing for my CPA. In the summer I will be interning with PwC. Hockey wise I am continuing to further my love of the game at Scranton.
What would you recommend the current TBirds players take away from their High School Hockey Experience? Enjoy every moment because living through covid you learn not to take any game for granted. Also set high expectations because our program has a pedigree of winning at this level and there's no reason why we can not reach the top every year. Strive for greatness.
Anything that you would like to add about your time playing for the TBirds; teammates/ coaches/ parent support/ etc? The bonds I made with my teammates are bonds that will truly last forever. The locker room chemistry and the crazy crowds that come out are some of my favorite moments. I am lucky to have worn the word t-birds across my chest for 4 years.