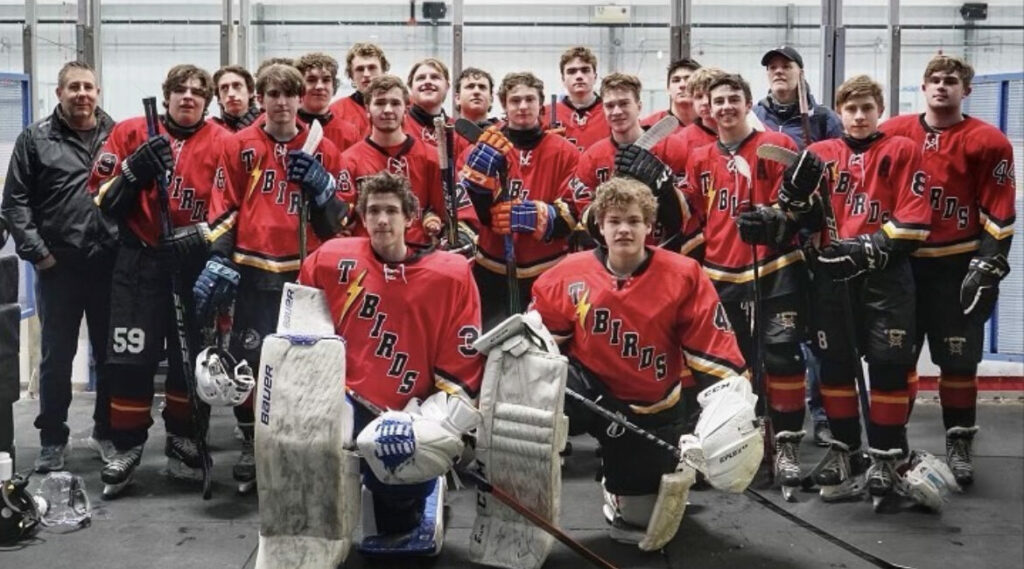 HAUPPAUGE, N.Y.— Last season, entering the month of December, Connetquot/Sayville sat with a 4-6 record at the halfway point and falling out of the playoff picture. From that point on, the T-Birds put together an eight game winning streak and won nine out of ten, earning a playoff berth as the fifth overall seed.
Two upset victories later and the club found themselves in the Varsity finals where they'd jump out to a 1-0 series lead to ultimately fall in three games to a tough St Anthony's club.
The T-Birds will look to get back to the postseason in 2022-23, but will have to do so with an almost entirely new squad.
Seven of the T-Birds' top ten point scorers from last season have graduated and won't be back in 2022-23. Those players were significant contributors on offense such as All-Star defenseman Colin Beisel, who led the T-Birds in goals (21), assists (17), and points (38). All-Star forward Kenny Corrao is also departing after leading the entire forward group with 20 goals and being the only other player with 30 or more points.
Another huge piece of last season's team, the quartet of PAL players; James Brady, Donald Pace, Evan Venth, and Maxwell Gorman have all graduated as well, which leaves a select few remaining of the core group of 2021-22.
So who can the T-Birds now turn to for offense?
The top two leading scorers from last season's Junior Varsity squad (Ryan Fleischauer and Matthew Campagnola) are heading up to the big club to lend a hand.
Fleischauer averaged a goal per game at the JV level scoring 21 times, while Campagnola led the team with 14 assists. The two teammates also played with the Long Island Royals organization last season.
New to the league this year will be Logan Keil and Luke Savage, who both played with the Long Island Gulls last season.
Along with the young bunch of forwards coming up from JV this season, Savage and Keil will be called upon to provide an instant spark for a T-Birds offense looking to once again take flight.
Undoubtedly the biggest and most valuable name returning for Connetquot/Sayville this season is defenseman Matteo Marchese. Not only did he lead the team with four power play goals last season, but Marchese was tied with three others for most power play tallies by a defenseman in the Varsity division. Marchese and George Vadyak IV are the only two defensemen who are returning from last season's team.
Brent Brdey, Ryan Delucie, and Jack Mercado, are all getting the call up from JV. Similar to Marchese's impact on special teams, the T-Birds defense at the JV level were also involved offensively. Brdey brought life to a struggling power play with a team leading two tallies while Mercado scored the only two shorthanded markers all season. It will be interesting to see just how aggressive Connetquot/Sayville's defensive group will be on the offensive side of the puck.
Another big story for Connetquot/Sayville in 2021-22 was their All-Star net minder, Joseph Walsh.. Walsh won't be back in 2022-23, so the focus in goal shifts to the battle tested Jack Keil.
Last season, Keil was the go-to goaltender on a Patchogue/Medford team and he faced plenty of shots on a nightly basis. He'll move over to Connetquot Sayville this year with an eye on the starting duties while Noah Tloczkowski returns to the club. Goaltender Matthew Hughes will compete for the job as well after spending last season with the JV club and was also teammates with Fleischauer on the Royals. With this three-headed monster for the T-Birds, goaltending should not be an issue.
The timeless quote of, "It's not how you start that's important, but how well you finish" by Jim George is something that the Connetquot/Sayville Varsity team embodied during 2021-22. A team that played their best hockey when it mattered most came just one win away from being SCHSHL champions. The T-Birds will try and create some more postseason magic in 2022-23 as the new players will look to provide an instant impact. We'll soon find out if this Cinderella story has come to a sudden ending or if it's just the beginning of something special brewing.