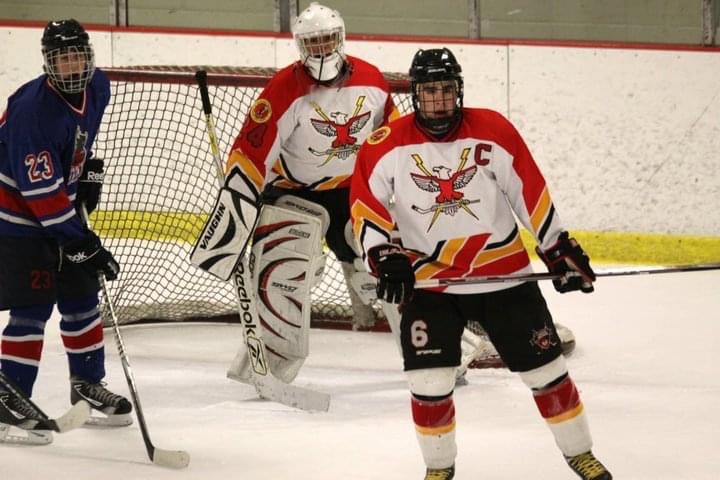 Frank was part of one the most competitive T-Birds Varsity teams from 2009-2011, capturing a NY State Championship and playing deep into the Long Island High School Playoffs every year. Let's catch up with Frank now on his time with the T-Birds as a player and life since. 
Thank you Frank for your time, and we look forward to seeing you at the rink soon! 
1. What town did you grow up in and High school did you attend? 
Ronkonkoma, NY. Connetquot High School
2. What years did you play for the Connetquot Sayville Club?
2006-2011. Freshmen, 1 year of JV, 3 years of Varsity
3. Did you play other sports in High School, if so which one(s)? 
I have played baseball up until 9th grade. It was then I had to make the decision whether I wanted to play hockey full time or baseball. It was an easy decision for me to make. 
4.  Was there a coach that left a positive impression or influence for you along your hockey path?
I grew up skating with Aleksey Nikiforov at the Rinx. He was one of the 1st coaches that believed in my ability, and how well I saw the game. I was always a bigger guy and didn't skate the greatest, but he always believed in my abilities. 
5. What was your most memorable moment while playing for the TBirds? 
My senior year we won the NYS championship which was held at the Rinx. That season we had also made the Suffolk County finals and lost to Long Beach. At the time they were in the league because they had gotten kicked out of Nassau. I'd like to still think we were the true Suffolk County Champion. (Sounds similar to this past season – Ha) 
6. How far did your teams make it in the High School Playoffs?
We lost my sophomore year in the finals, my junior year in the quarters to eventual champion middle country, and my senior year in the finals vs Long Beach. 
7. Where and for whom did you play your travel hockey?
 I grew up playing for the Long Island Royals. I played 1 year of Squirts for Applecore, and then my junior year I played for PAL Junior B team. My senior year I played for the Royals Junior B team. 
8. Did you play hockey past High School, if so where?
After high school, I played 1 year in the NAHL for the St. Louis Bandits where we lost in the Roberstson Cup finals. Then a year in Dubuque, Iowa for the Fighting Saints (USHL)where we won a Clark Cup. I then went on to play for 4 years at Yale, and then played 5 years professionally in the ECHL 
9. What is Frankie DiChiara doing today?
currently, I've just retired from playing and will be the assistant coach for PAL NCDC team this year. Hoping to brush up my resume and then the following year be working either in finance or something along those lines. Time for me to use my Yale degree! 
10. What would you recommend the current TBirds players take away from their High School Hockey Experience? 
Enjoy every minute of it. High school hockey has gotten much more support recently from friends/family and other students in all the schools. It looks like, especially for playoffs, there isn't an empty seat in the rink. It's a great feeling playing in front of that many people and something you should never forget! 
We really like to thank Frank for a few minutes on his experience through a career with the T-Birds.